So yesterday the Chancellor announced in the budget an extra £2bn for mental health services, and in particular for extending mental health provision into 'A&Es'. Whilst the devil will of course be in the detail, and those of us with a long history of the reality gap between announcements and experience will be preparing ourselves for disappointment, there is at least a decent economic rationale for the Chancellor to be prioritising investment in crisis mental health support in acute hospitals.
The Strategy Unit undertook the evaluation of the mental health Rapid Assessment, Interface and Discharge service in West Birmingham in 2012 and then the evaluation of its pilot roll out across Birmingham and Solihull in 2013. That first evaluation showed a 'return on investment' in total cost terms of over 3:1, and even showed the service delivering net benefit in terms of marginal costs and marginal savings. As part of the pilot roll out, we undertook an exercise which not only tested for continuation of the overall return on investment shown in the first evaluation (which was achieved, and which was  the primary trigger for 'stop/go') but we also developed a method that allocated the benefits across the various constituents, providers and commissioners, and which set the basis for dividing up the cost of sustaining the service beyond pilot stage. In doing this we deployed sophisticated matched cohort methodology. The results were accepted and the service was sustained despite it requiring an additional investment of over £4million per annum.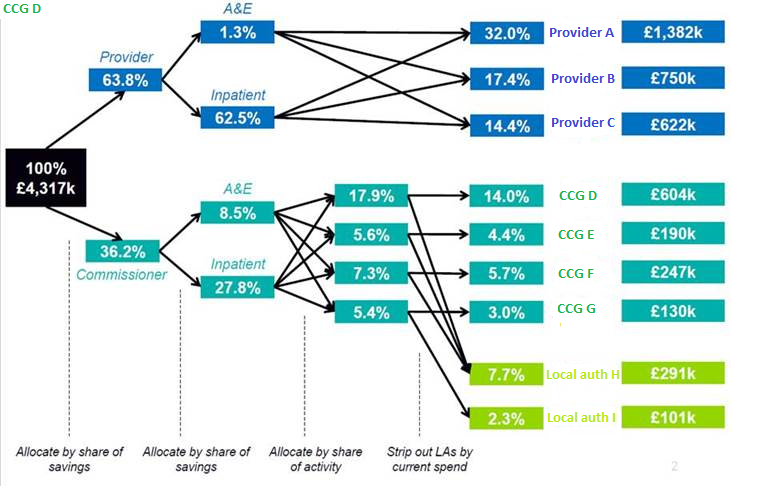 More recently, we have evaluated a Rapid Assessment Interface and Discharge development in Northern Ireland (an already more integrated context) which also exhibited significant benefits and return on investment. That evaluation included some interesting methodological developments (using text mining and genetic matching etc) and constitutes the most recent detailed assessment of the efficacy of this type of service.
There are several lessons from these evaluations that should inform those who look to implement such service developments in the light of the new budget:
The critical mechanisms that drive benefit are the direct service delivery ('mental health staff in A&E' etc) but also the effect of training provision and increased awareness/confidence amongst clinical staff in acute hospitals. This is important, not least because it means that the achievement of full benefit isn't quick. In our experience, the training (direct and halo) effect was seen to emerge  over a 1.5 year timeline.
The biggest economic benefits we saw in patterns of utilisation, and those that largely drove the positive return on investment, were length of stay reductions rather than avoided admissions. This is important in considering how any such service is deployed and where its emphasis lies.
It is possible to use a sophisticated evaluation as a way to break though  barriers to making complex decisions about strategic service change. By agreeing the detailed technical methodology and the 'terms of engagement' upfront, and by using independent and trusted expertise (the Strategy Unit in this case) to deliver the evaluation, Birmingham and Solihull went from proposition to extended service delivery, in the space of time that many places take to wade through even the early stages of sequential business planning processes. We see significant potential in this approach, particularly where more preventative interventions are expected to have system wide benefits and where decisions will need to be made about apportionment of costs if services are to be maintained.
The Strategy Unit has the methodological rigour, the experience and the status of being 'inside the NHS yet also independent' that allows us to support health economies who might want to test out this approach going forward. Please get in touch with Peter Spilsbury if you would like to explore this further.