On World Mental Health Day 2019, we bring to a close the Strategy Unit's guest blog series which explored the overlap between mental and physical health. 
We had previously identified that people with a mental health illness in England have a life expectancy that is on average 16 (women) or 19 (men) years shorter than those without.  This lower life expectancy will be a result of multiple factors; a key factor is expected to be poorer access to physical health services and treatment for those suffering from a mental health illness. Through bringing together the diverse voices in this series, we gathered the perspectives of the patient, clinician, organisation and system thinkers, drawing on their reflections, often personal. Our aim was simple: to raise awareness and to engage others to act for the benefit of those who are disadvantaged.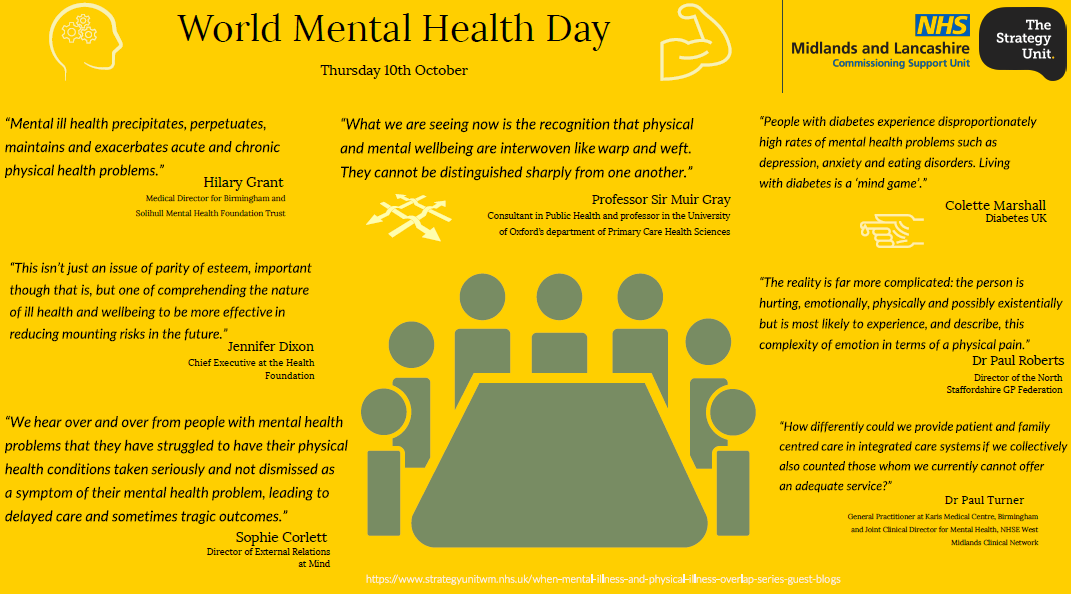 Sophie Corlett, the Director of External Relations at Mind, wrote from the perspective of mental health service users developing a physical ailment, and the challenge of having their physical health issues being dismissed as a symptom of their mental health status.  Colette Marshall, Director of Operations at Diabetes UK reflected on the patient experience too, but this time from the perspective of those with physical illness seeking mental health support. She described the experience of diabetics in accessing mental health support to be generally limited, and at best, patchy.  Diabetes teams were viewed as being concerned only with the physical symptoms, with emotional health issues not broached and patients 'feel ashamed for not coping'.
What impact is there on the clinician?  Paul Roberts, a GP and Director of the North Staffordshire GP Federation, describes the painful conversations between GPs and patients when long-term unresolved mental health issues manifest as physical pain. He describes the frustration on both sides when the medical refusal to prescribe stronger painkillers is taken as doubt of the pain being real by the patient.  Hilary Grant, the Medical Director for Birmingham and Solihull Mental Health Foundation Trust, highlighted the clinical challenges to providing care for those with a dual diagnosis in an acute setting, including when the patient is a clinician.
Both doctors described ways of improving the delivery of front-line care for those caught in the overlap. This includes clinicians being curious and confident to see the patient's health needs beyond the usual disease process: continuing to care with compassion, but through a different lens. Without this, as Hilary points out, mental ill health will continue to 'precipitate, perpetuate, maintain and exacerbate acute and chronic physical health problems'.
Across our guest blogs, a unanimous view emerged: there should be an integrated primary, secondary, tertiary and system approach to managing the overlapping illness.  Paul Turner, GP at Karis Medical Centre, Birmingham and Joint Clinical Director for Mental Health, NHSE West Midlands Clinical Network, describes this as the untreated complexity burden: inadequate support or unnecessary investigations or treatment, 'leaving everyone, patient, families and clinicians feeling disappointed, powerless and stressed'.
Jennifer Dixon, Chief Executive of the Health Foundation, points out the dependency of integrated mental and physical care on integrated quality information. She describes the current status: routinely collected data are either of poor quality, not accessible, or difficult to link up to show a complete picture of the care, and this is within the NHS.  Linking up NHS data with other public services for the benefit of mental health services users is even more elusive.
We arrive where we started: with Muir Gray, Consultant in Public Health at Oxford University Hospital NHS Trust and a professor in the University of Oxford's Department of Primary Care Health Sciences, and his challenge to better recognise that physical and mental wellbeing are interwoven like warp and weft.  The Strategy Unit remains committed to this journey[1]. As described in Sophie Corlett's blog:
None of this is easy to achieve. Systems will need to work together to provide wrap-around support for people with complex conditions. It takes time and perseverance to build the sorts of relationships and trust required for services to give away autonomy, pool budgets or share plans, in pursuit of better patient outcomes in the longer term. But though this is slow work, where we have seen greater collaboration, people's experiences of care have improved hugely.
---
[1] We have undertaken, and are currently engaged in, a number of analytical projects addressing specific local and regional questions which span the physical and mental health overlap. Please get in touch with the Strategy Unit if you would like to know more about these projects.