When and how can working collaboratively as a system deliver benefits not available to single organisations?
Leaders in the health and care sector are responding to a growing policy emphasis on taking an integrated, whole-system view of population health and care needs. 
There is an increasing evidence base that co-ordinating plans, integrating delivery and aligning incentives across currently separate organisations and sectors presents opportunities to make transformational improvements in health and care outcomes, through higher quality and more efficient services. 
This move towards systems thinking is a change from recent policy history, with its emphasis on competition and market mechanisms. In the commercial sector, too, collaborating within a defined system (e.g. a supply chain) is commonly replacing simplistic 'win-lose' competition. 
We support the economic and ethical rationale for this but also believe a systems approach cannot be a 'cure-all'. Local partners need to be judicious in determining when and how the benefits of collaboration will exceed the costs. In particular, we see risks relating to:
Focusing on organisational forms rather than on specific opportunities for improving quality, outcomes and efficiency (both allocative and technical);
'Cutting and pasting' of novel interventions or enabling mechanisms (e.g. risk/gain share) from one system to another, without adequate evidence of effectiveness or sensitivity to the specific circumstances of each locality; and
Failing to recognise that systems are not static and that the 'right' partners will vary depending on the opportunities and challenges in question.
The Strategy Unit has a history of supporting clients realise the potential of collaborative working - making better use of scarce resources and improving outcomes for their populations.
We know from experience that the delivery of transformational change is a long-term project requiring clear, evidence-based logic and relentless focus.
We understand that, to take advantage of the opportunities of system collaboration, all those with a role in system leadership and transformation – both clinicians and operational, strategic and financial managers - face a range of similar challenges:
Developing new ways of working and a genuinely collaborative culture;
Exploring and establishing the financial and governance mechanisms necessary to support coherent and sustainable action at a system level (including risk/reward sharing);
Supporting the development of current and emerging clinical leaders;
Defining and implementing information systems that support proactive management of population needs;
Establishing robust programme management arrangements, to ensure the effective delivery of system objectives.
Developing an overarching clinical strategy, including mapping patient pathways to different population levels (i.e. c.50,000; c.300,000; 1m+);
Optimising patient pathways and redesigning care models;
Identifying and prioritising areas for improvement, including where there is under/over-utilisation of services and/or unwarranted variation in outcomes or spend;
Reconfiguring more specialised services across one or more systems, especially in relation to acute physical and mental health care.
Becoming a self-improving 'learning health system', with mechanisms for sharing learning and innovation across services and localities;
Defining system-wide standards against which partners hold each other to account (e.g. through a locally-owned peer review process rather than external regulation);
Supporting implementation of innovative change at scale. 
Working with us as a strategic partner
The Strategy Unit is born from the NHS and our team is committed to empowering NHS and other system partners to make wise, well-informed decisions that make a real and lasting difference to their local populations.
We can help you to address complex and enduring challenges in your system, and to conceive and realise new opportunities. We do not offer pre-packaged 'solutions' but work with systems on bespoke, locally appropriate approaches across the three core phases of transformation: diagnosis; development and delivery.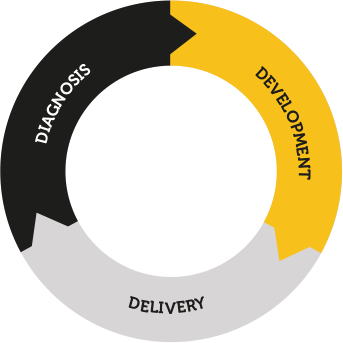 Client need
Understanding the factors driving the current position and how these might evolve.
Evidencing the nature and scale of the challenge/ opportunity.
Defining system vision and aims.
Our Services
Descriptive analysis and benchmarking – qualitative research – evidence reviews – service reviews (including peer review) – Delphi analysis – scenario planning 
Case studies
Client need
Examining evidence and generating ideas.
Developing and modelling, evidence-based strategies, clinical models and options.
Testing propositions, appraising options and building consensus.
Our Services
Prospective modelling – logic modelling – evidence reviews – clinical strategy development - option development and appraisal – impact assessment – prospective evaluation – business case development – clinical assurance – 'road testing' ('rubber windmills', scenarios, etc.) – engagement of expert stakeholders
Case studies
Client need
Evaluating outcomes – harvesting learning from delivery for further improvement.
Critical challenge, strategic advice and ongoing support to realise system aims.
Our Services
Service improvement – programme support and assurance – quantitative and qualitative evaluation – 'honest broker' strategic advice and guidance 
Case studies