The Strategy Unit works on complex challenges. Our services add most value where the need for innovation and clear thinking is high and the suitability of standard approaches is low.
So, in all cases, our support is tailored to the specific needs of the organisations and systems we work with.
Work with us
Working with us as a strategic partner
The Strategy Unit is born from the NHS and our team is committed to empowering NHS and other system partners to make wise, well-informed decisions that make a real and lasting difference to their local populations.
We can help you to address complex and enduring challenges in your system, and to conceive and realise new opportunities. We do not offer pre-packaged 'solutions' but work with systems on bespoke, locally appropriate approaches across the three core phases of transformation: diagnosis; development and delivery.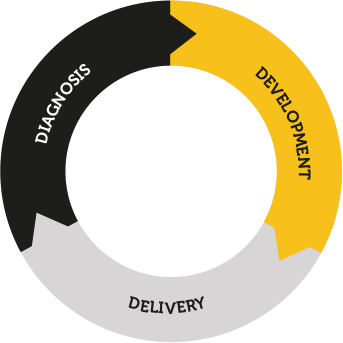 Our services span the innovation and improvement cycle. We help our customers understand challenges, design responses, improve delivery, and evaluate results. In short, we help them 'Diagnose', 'Develop' and 'Deliver'.
 
Organisations and systems need to:
So the Strategy Unit's services include:
Diagnose
Understand the nature, scale and
likely evolution of population
needs and service responses

Needs assessments
Comparative analysis
Problem structuring support
Population and geographical mapping
Prospective modelling
Scenario planning

Develop
Define strategic priorities, know
what will deliver them and
understand expected impacts

Strategy and programme development
Options appraisal and consensus building
Quantification of improvement opportunities
Business case development
Selection and measurement of outcomes
Integrated impact assessments
Organisational development support

Deliver
Work in partnership to build
capacity for delivery. Track
implementation and evaluate
effects

Rapid feedback evaluation
Impact evaluation and economic analysis
Governance support / independent reviews
Trusted advisor support; mentoring and coaching
Developing 'self-improving systems'
Clinical peer review
Learning and dissemination
The Publications page shows examples of outputs from our work.